Escape from city livin' and take the slow road to one of Henderson, Kentucky's favorite family farms– Cates Farm! 'Tis the season for fun at the pumpkin patch, and Cates Farm has gone to great lengths to provide a cherished tradition for your family. Get to know our farm fresh community and learn why agricultural roots run deep in Henderson!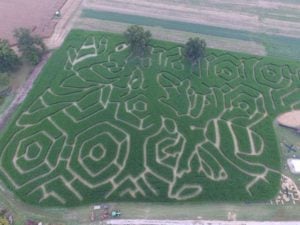 Cates Farm Corn Maze & Pumpkin Patch is a must-do on the fall-family-fun itinerary in Henderson, Kentucky. Amy Cates and her brother, Ab Cates, are fourth-generation farmers on their family homeplace that has grown to be loved by many visitors each year.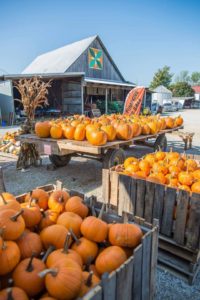 A variety of crops, tobacco, produce, pumpkins, and the corn maze make up the vast farmland at Cates. "We've done vegetables and pumpkins since the 1980s," tells Amy. "My mom retired from school teaching and decided she wanted to give her children a farm experience where they could see a working farm and help bring it to life." For well over a decade now, children and families have been visiting the farm to get that experience through the corn maze and the pumpkin patch!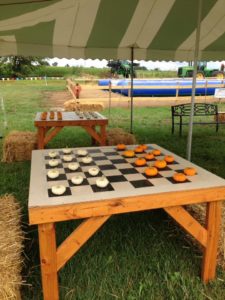 "We grew up raising and selling vegetables and pumpkins here. My parents didn't start until we were old enough to work and learn, which was a teaching moment for them. We did things all the time around the farm." Amy shared a memory of her grandfather helping them learn the trade as children. He made sure his grandkids always gave change back with the bills consistently facing the same direction. "I find myself doing the same thing with our staff now," she laughed.
Some of Amy's favorite things to make with fresh ingredients from the farm are pumpkin pie, fresh corn salad, squash pie, zucchini breads & muffins. "Fresh pumpkin makes the best pumpkin pie!"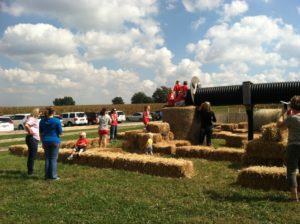 One of Amy's favorite parts of the farm is that they are providing an outdoor experience for families to enjoy. "There are families that have made it an annual thing. We've seen kids grow up each year coming out here." Cates Farm hosts school groups during the week, giving them an educational experience with guided tours of the farm. They also host birthday parties, family reunions, church groups, and other groups.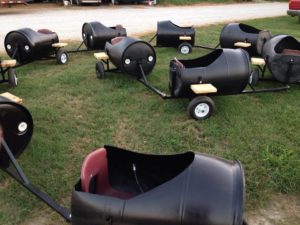 With general admission to Cates Farm, you can pick your own pumpkin, go through a challenging corn maze, ride the hayride, and attend bonfires. Children can ride the barrel train, jump on the jump pad, go through a straw maze, and play in the corn box. Food trucks are available in October as well.
Plan a visit to Cates Farm, located 8132 Pruitt-Agnew Road, September 15 through October 31 on Fridays from 4 to 8 p.m., Saturdays from 10 a.m. to 8 p.m., and Sundays from noon to 8 p.m. To find updates on Cates Farm, follow them on Facebook!