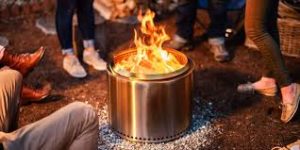 Fall is finally here and along with it comes those great tastes that only really taste good in cool weather.  I love pulling out my favorite cozy cardigan and watching leaves turn, and feeling the crispness in the air. Make up these yummy desserts & beverages, sit by a bonfire on a cool autumn night, eat, drink and enjoy!
Disclaimer:  One dessert recipe contains sweet potatoes so we can claim this blog has some nutritional value. 🙂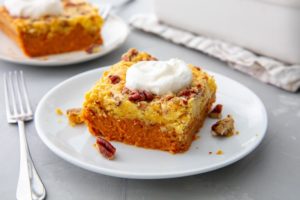 Pumpkin Dump Cake
1 box yellow cake mix
1 29 oz can of pumpkin
1 can (12 oz) can evaporated milk
1 c packed brown sugar
3 lrg eggs
3 t pumpkin pie spice
1 c chopped pecans
1 c (2 sticks) butter, melted
whipped topping for serving
Preheat to 350′ & grease a 9×13 baking dish with cooking spray.  Whisk pumpkin, evaporated milk, brown sugar, eggs, & pumpkin pie spice together in a large bowl.  Pour into the dish.  Sprinkle cake mix over the pumpkin mixture, then sprinkle pecans on top.  Pour melted butter evenly over the top of this.  Bake until cake is set, about 65 minutes.  Cool completely before cutting into squares & serving with whipped topping.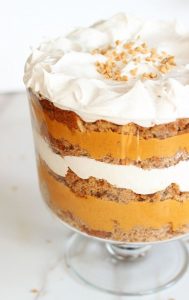 Pumpkin Butterscotch Gingerbread Trifle
1 package (14 1/2 oz) gingerbread cake/cookie mix
4 c cold fat-free milk
4 packages (1 oz each) sugar free instant butterscotch pudding mix
1 t cinnamon
1/4 t ginger
1/4 t nutmeg
1/4 t allspice
1 can pumpkin
1 carton (12 oz) frozen reduced fat whipped topping, thawed
Prepare & bake gingerbread mix according to package directions for cake.  Cool completely, then break into crumbles reserving 1/4 c crumbs.  In a large bowl, whisk milk, pudding mixes & spices until mixture is thickened, about 2 minutes.  Stir in pumpkin.  Using a 3 1/2 qt trifle or glass bowl, layer 1/4 cake crumbs, 1/2 of the pumpkin mixture, 1/4 cake crumbs, & 1/2 of the whipped topping.  Repeat layers & top with reserved crumbs.  Keep in the frig until ready to serve.
Sweet Potato Cream Cheese Bars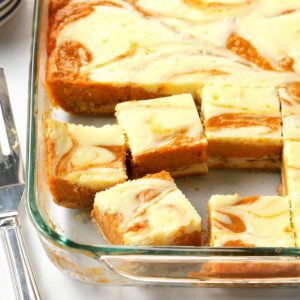 1 box white cake mix
1 c toasted chopped pecans
1/2 c cold butter, cubed
1 8 oz package cream cheese, softened
1/2 c sugar
3 lrg eggs
1 can (14 0z) sweetened condensed milk
3 c cooked, mashed sweet potatoes (about 3 medium)
2 t pumpkin pie spice
Preheat oven to 350′.  Combine cake mix & pecans; cut in butter until crumbly.  Press onto bottom of a greased 9×13 baking dish.  Beat cream cheese, sugar, 1 egg, & 2 T sweetened condensed milk until smooth; set aside.  Stir sweet potatoes, 2 eggs, remaining milk & pie spice; pour over pecan mixture.  Dollop cream cheese mixture over sweet potato mixture.  Cut through cream cheese mixture with a knife to swirl into sweet potato mixture.  Bake until set & slightly golden on top, about 45 minutes.  Allow to cool completely; chill before cutting into bars.