Why are brides seeking out Henderson, Kentucky as their wedding location? Our killer sunsets, miles of green space, and unique venues make Henderson the perfect backdrop for a day from a dream. Our Hendo hospitality doesn't hurt, either! Planning a wedding? Enjoy our tips for planning your fairytale day in #HendersonKY!
Unique Reception Venues
There are a variety of very unique venues that can accommodate small and large wedding guest lists. Here's the skinny on our signature venues:
Bridal Gown Boutique

If you're daydreaming of a fairytale experience while searching for your perfect wedding gown, an appointment with Opulence Bridal is sure to dazzle. This charming Main Street bridal boutique carries a variety of affordable luxury gowns that range from $800 to $3,000. The designer selection is very intentional, carrying designers that brides wouldn't find in other nearby cities and bridal shops. Your private appointment and consultation will leave you with all the feels as you say yes to THE dress!
Formal Attire & Wedding Accessories

Complete your wedding party attire with bridal wear, formal wear, and accessories from Pem's Gallery Gifts & Bridal. Pem's is a staple for tuxedo fittings and rentals, and if you're looking for anything that sparkles or shines, Pem's Gallery Gifts and Bridal has it. Pem also has years of wedding planning experience and will make sure you've checked even the smallest details off of your wedding checklist.
Rehearsal Dinner & Catering

Setting the tone for your guests' experience begins and ends with your wedding weekend menu. Rookies Sports Bar & Grill is downtown and offers catering on-site (and occasionally off-site) with a full bar and mixologists eager to serve your signature cocktail. Rookies has three event rooms, the largest of which can accommodate up to 150 people. Farmer & Frenchman Winery's event barn accommodates around 170 and is a uniquely Henderson experience, from delicious catering options to local wine. The Gatsby Room at Hometown Roots is the perfect size for a rehearsal dinner and boasts beautiful architecture in downtown with Southern-inspired menu options. For an intimate, cozy feel with unique catering options, check out Commonwealth Kitchen & Bar. Discover more local restaurants on our dining page to explore other local catering options.
Wedding Cakes

If you are looking for a traditional wedding cake, groom's cake, or just a tasty cake that will feed a ton of people, there are great local options to meet your needs. HallieCakes creates beautiful, truly artistic cakes. As seen in Kentucky Bridal Magazine, HallieCakes creates everything from traditional tiered cakes to trendy wedding cupcake options. If you are looking for a large, great tasting cake that will feed a lot of people, be sure to check out Golden Glaze Bakery's five flavors of sheet cakes, great for serving large wedding parties. Or if you'd like to offer a doughnut bar at the wedding, Golden Glaze is known for fabulous doughnuts, too!
Wedding Flowers

Make your special day extra beautiful with flowers from Henderson's skilled florists. J'Petals florist Jayme Floyd has over a decade of experience and is a local favorite for bridal bouquets and large events. Decorate your rehearsal dinner, engagement party, groomsmen's boutonnieres, or stage your engagement photo shoot with arrangements from Shaw's Flowers, or A Day To Remember Flowers.
Overnight Accommodations for Guests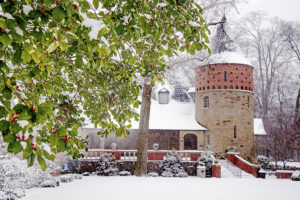 For wedding receptions that continue in the late hours of the night, it's essential to have overnight options for wedding guests. For out-of-towners that want a homey, charming place to stay, brides can direct guests to our bed and breakfast or cabin-style accommodations: Victorian Quarters, Farmer & Frenchman's luxury cabins, Audubon State Park's six on-site cabins, L&N Bed and Breakfast, or The Farm. Each of Henderson's accommodations boasts excellent hospitality and uniquely Henderson story to tell. Of course, Henderson has many hotels that can accommodate larger numbers of guests, too. Discover how easy wedding reservations can be by visiting our lodging page. Most of our hotels can offer deals for blocking off rooms in advance.
Henderson Party Favors & Welcome Kits

Let the Henderson Tourist Commission add the finishing touches to your guest experience! We offer gift shop discounts for brides that will be ordering items in bulk. Our vintage-inspired glasses, shot glasses, and other unique souvenirs are great gifts for bridesmaids and groomsmen. We also have a great selection of apparel, drinkware, and accessories that are great for completing gift baskets, thank you gifts, and welcome kits. If you are planning a wedding on a budget, ask us about how we can provide free information, guides, and itineraries for your out-of-town wedding guests. Visit our online gift shop to browse our Henderson merchandise selection.