Guest Blog by Emily Patton
Fall is one of my favorite seasons in Henderson – cooler weather, colorful leaves, and the perfect time to enjoy activities with your dogs. Here are some must-dos with your pets during your time in our river city.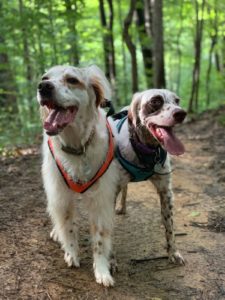 Take a Hike – Owning such a high-energy breed, you can find us hiking every weekend in Henderson. Head over to John James Audubon State Park, 3100 US Highway 41 N., and adventure on the Eagle Glenn Pet Trail. The trail is dog-friendly to leashed dogs, about a mile-long loop, and includes steep terrain and several staircases. Also, leashed dogs are welcome at Audubon Wetlands to walk the boardwalk and trails! We also frequent Sandy Lee Watkins Park, the River Walk, or Canoe Creek Nature Trail. Henderson has no shortage on dog-friendly trails.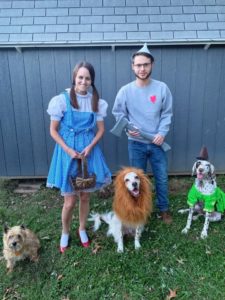 Trick-or-Treating Downtown – We never miss an opportunity to dress the dogs up in costumes, and joining in on the fun in Downtown Henderson on Halloween is a sight you don't want to miss. No matter how old you are, with kiddos or not, take your pooch for a walk on Main Street and watch their delight as they join in on the spectacle.
Cold Brews and Football – There's dog-friendly, and then there's dog-welcoming. And Henderson Brewing Co. is the latter. You'll be greeted with a dog bowl of water instantly by your table, beers delivered to your table to prevent leash tripping and spilling any brews, and pets and love for your furry friend. It's the perfect place to catch a football game while enjoying a delicious beer this fall without leaving fido at home.
Shopping and Photo Ops – If you pass by Gabbi's Pet Boutique on Green Street, you'll see the cutest fall display waiting for photo ops with your pet. Not only does Gabbi's satisfy our need for all things fall pictures, this adorable pet store welcomes your animals inside and greets you with fantastic service and everything you need. Pro tip: stop by the counter to browse the case for seasonally decorated dog-friendly cookies.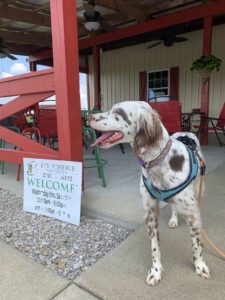 Visit a Vineyard – Talk about being on cloud wine – head to Boucherie Winery! This sweet, family-owned winery and vineyard is dog-friendly and a staple in our area for local wines. Enjoy the fall weather sitting outside on the covered patio with your pooch at this local Spottsville gem.
Spend a Day at the Dog Park – Want some off-leash time for your dogs? Enjoy the cooler weather outside at the Community Park and Dog Park, 1776 Madison St. The park is divided into two areas with a large and small dog section. The dog park includes agility equipment, picnic tables, water fountain, and pet waste stations.
If you enjoyed this blog, follow Winston and Ivy at @winstontheenglishsetter on Instagram or Facebook.
Emily Patton is mom to Winston and Ivy and creator of Ivy Jane Bandanas. Shop our exclusive Ivy Jane Bandanas pattern for your furry friends!