"I've always had a passion for farming," smiled Nathan Mattingly of Mattingly Farms. The 25-acre farm was a strawberry patch for 20 years and has since been converted into a peach orchard. 2018 was their first year selling peaches, with 700 peach trees planted, 300 more growing, and about 500 apple trees. "We like to offer something that people can't find in a grocery store," said Nathan. Peaches, blueberries, apples, and garden produce are all grown at the farm. They participate in the Henderson Farmers Market where they sell everything they offer, including peach jam.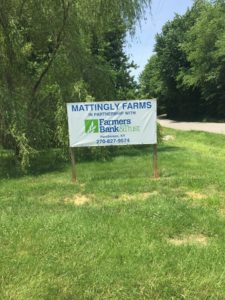 The family, made up of 7 children and their parents, is very close-knit. "I just enjoy working with my children. We get to spend quality time with one another while we work. Most people don't get to do that." They reminisced about a time when one of the children, who was 3 years old at the time, told a customer "I'm doing all the hard work!" when asked what he was doing.
Nathan hopes that working on the farm will teach his kids "the value of a dollar" and leave them with skills that they can apply in their lives forever. "I'm really glad I've had this experience. It's helped me learn to talk to people with no problem," says Ashley, the oldest daughter who is a student at the University of Kentucky. She is currently studying mechanical engineering and wants to continue on to get her MBA. "Ashley is the biggest help," Nathan continued, "I miss her while she's gone to school."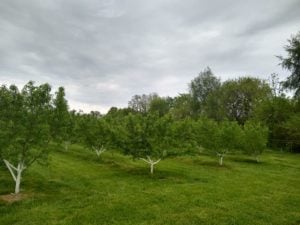 "I did about 10 years worth of research before I ever started with peaches," he remembered. "I always read on more than one resource because there isn't a great resource for peaches in this area." One of their daughters has several food allergies, preventing her from being able to eat products containing or produced in an area with those foods. "I did a lot of this for her. I wanted her to be able to have good food that she likes and know where it came from."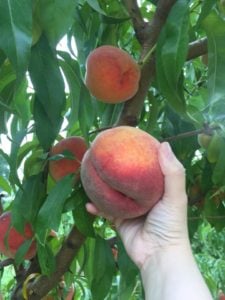 "I see this operation continue to grow. We may get into some cider and add more trees." Their peaches come in around the first week of July and run until the second week of September. Their apples run all the way to Thanksgiving. They hand pick all of their peaches and go through them three times before selling them, and their fruit is never stacked in order to prevent bruising and damaging. "I want people to come out here and know that they are getting a quality product. If I don't want it, I won't sell it to you," Nathan emphasized. They are a 100% satisfaction guarantee, meaning if you aren't happy with a product, they will replace it or refund your purchase.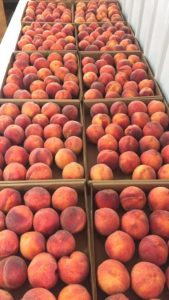 Nathan shared a couple of his favorite things to make with ingredients from the farm, including peach cobbler and peach butter. To make the peach cobbler, everything is a cup: 1 cup of sugar, 1 cup of milk, 1 cup of flour, 1 stick of butter, a sprinkle of cinnamon, and 2 cups of peaches. "I usually use 2 cups of peaches because I like a little extra," he laughed. You can find more of their favorite peach recipes on their Facebook page!
"Everything we do is with our family." At Mattingly Farms, you can buy peaches by the pound on Monday through Saturday from 9 a.m.- 6 p.m. and Sunday from noon – 5 p.m., or by visiting them at the Henderson Farmers Market! To see more from Mattingly Farms, follow them on Facebook!