One of the most beautiful ways to celebrate Memorial Day is to remember those who have served our country. The town of Henderson, Kentucky hosts one of the most monumental and special Memorial Day traditions in the South. Jim Hanley of the American Legion Cross Fund states, "For a small town like this, I think we've got the biggest display there is."
Each year, the town's Central Park is decorated with over 5,000 white crosses, each bearing the name of a loved one that has served in the United States military. About 100 names are added each year to the database, all of which are names of Henderson County residents that have served and since passed. This year, Jim estimates the total will reach over 5,400. "We love our veterans in Henderson County," Jim proudly stated.
Central Park sees an increase in visitors during the month of the Memorial Day cross display. Many choose to spend the cool summer evenings immersed in this peaceful setting. The two-story water fountain, large gazebo, and children's accessible playground make this downtown park a little paradise among the historic downtown. Many guests visit Central Park for the Memorial Day celebration service. This year's service will take place on May 27, with guest speaker Lieutenant Colonel David K. Roberts. Guests are welcome to bring lawn chairs to the service.
Volunteers begin preparing for this display at least a month in advance, cleaning and organizing the crosses. This display wouldn't be possible without the help of the WARM Center and North Middle School student volunteers. This year, the volunteers will be setting up the display May 8-10 (weather pending), and the crosses remain in the park until the week after Memorial Day.
For the best times to visit:
We recommend attending on May 27 for the annual Memorial Day celebration service, which is traditionally from 10 a.m.-noon. Locals recommend visiting May 13-31, during the evening hours. In the past, just before 6 p.m. each night, bugle Taps are played by a Henderson local, and the fountain and park lights are beautifully lit after the sun goes down. (If relatives wish to preserve flower arrangements and decorations on their loved one's crosses, they may pick up their flowers before the cross display is taken down on June 3.)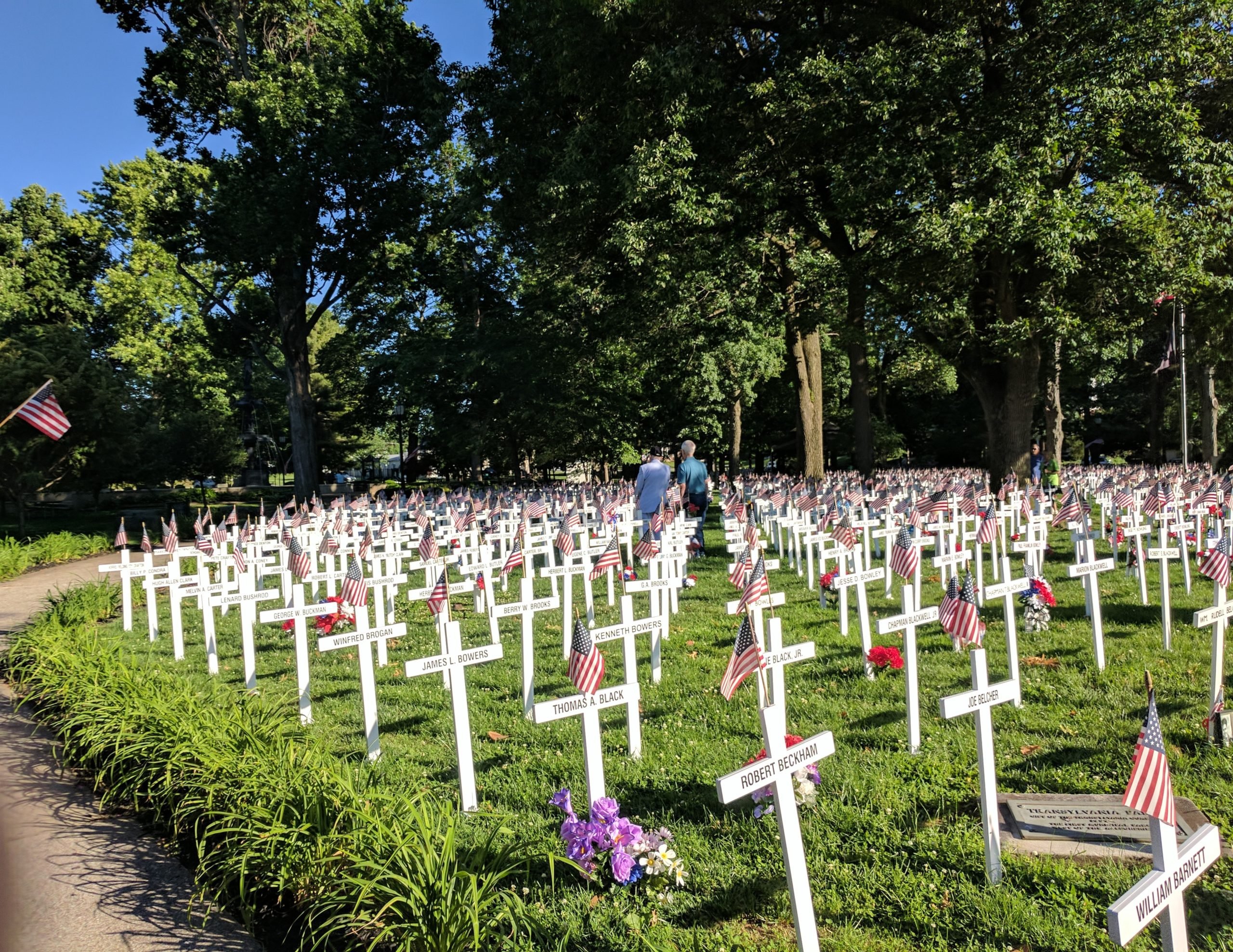 Aside from the white crosses, there are also a few other permanent military memorials in Central Park. There is a memorial commemorating Henderson residents that served in the Vietnam War, Operation Desert Storm, and an eight-foot tall memorial for veterans that served in all branches of the military. If you want to look for a friend or relative's name on a white cross, you can search by accessing the name database at the Henderson War Memorial Foundation's website.
Other things to do while in Henderson, Kentucky:
There are many places to explore while visiting Henderson! Not far from Central Park is the Henderson Riverfront. The Riverfront is a great place for a leisurely stroll on a summer day. There is plenty of park seating and nearby restaurants, and kids are welcome to splash around in the riverfront fountains. There are historical landmarks to enjoy here as well. Check out the Lewis and Clark historical marker, the W.C. Handy Festival marker, the active railroad bridge over the Ohio River, and the newly installed Admiral Kimmel statue. Kids are also welcome to play in the Spray Ground (water playground) on Letcher Street, which is about a five minute drive from Central Park. Visitors are highly encouraged to check out John James Audubon State Park. The state park has miles of outdoor trails and activities and a beautiful museum to explore. The state park is open every day, rain or shine! Add to your Memorial Day weekend itinerary by dining at one of Henderson's local eateries or shopping in historic downtown Henderson. Plan your stay this Memorial Day by checking out overnight accommodations in Henderson.
How to make a donation in remembrance of a loved one:
The Memorial Day cross display and celebration is coordinated entirely by volunteers of the American Legion Cross Fund and War Memorial Fund. If you would like to make a donation to help keep this tradition alive you can donate to either of these two organizations:
American Legion Cross Fund 
1790 Madison St.
Henderson, KY 42420
Henderson War Memorial Fund
300 First St.
Henderson, KY 42419-0596
Donate Online via PayPal