Want to enjoy the weather without exerting too much energy? Here's a tip: get a portable hammock! Portable hammocks are lightweight and tree-friendly, meaning no nails, screws or hooks, and you can set them up in about five minutes or less. You can relax and enjoy all your favorite spots in Henderson without breaking a sweat.
What to look for when setting up your hammock: Trees and green spaces are abundant in Henderson, but finding a spot suitable for a hammock is harder than it looks. You will want to look for mature trees that are about 12-15 feet apart. You can purchase extender straps for your hammock. Most come standard with 12 feet of adjustable straps. We scouted the best spots in Henderson to relax in a hammock and came up with these six spots to fit whatever hammock mood you are in.
1. Scenic Lake at John James Audubon State Park – hammock and picnic by the lake…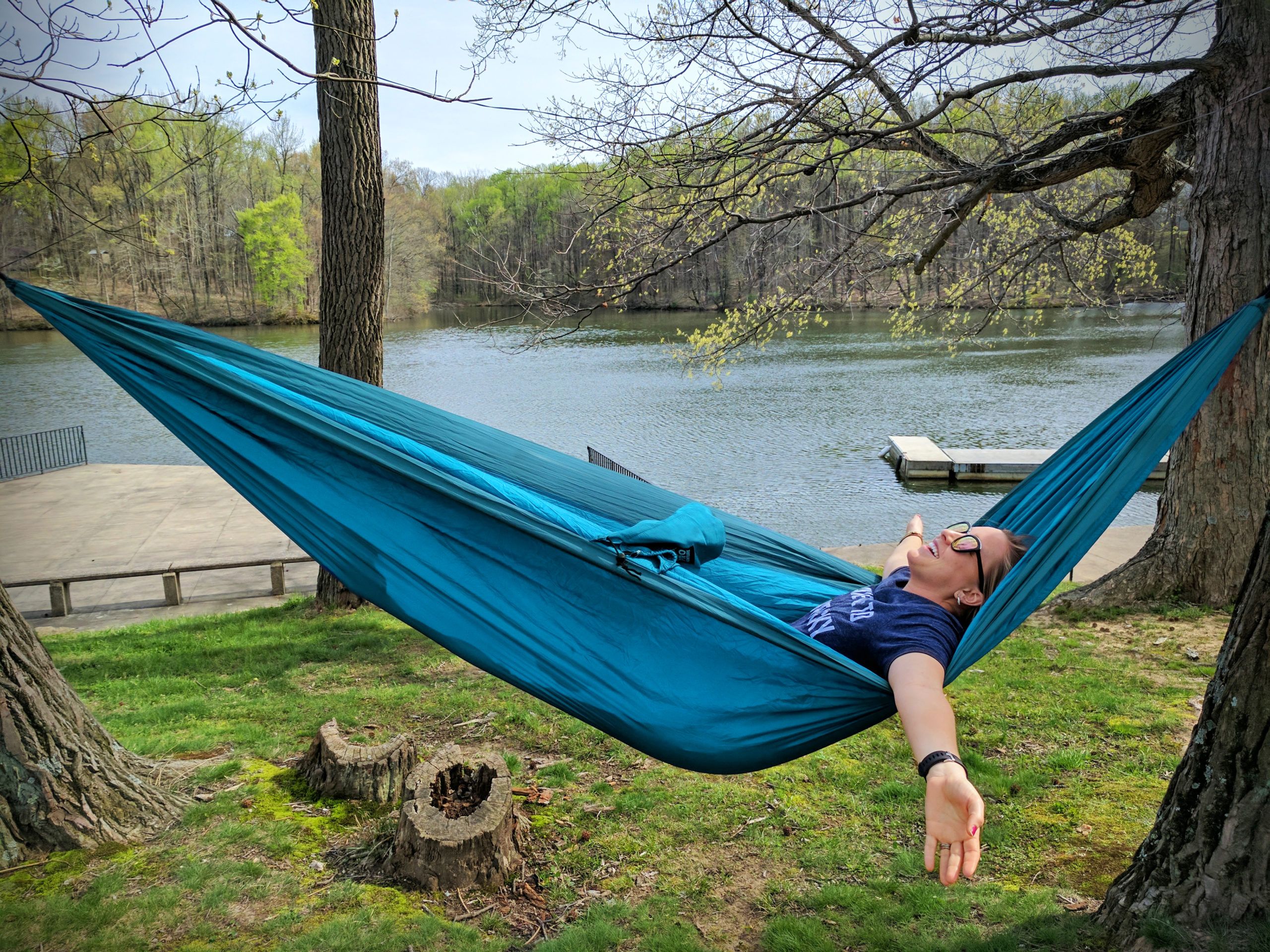 There are plenty of options to hammock at Audubon State Park. We knew that we definitely wanted to find a spot by Scenic Lake. Just to the right of the boathouse that sits by the lake, there were two very large trees that worked great. This spot was also great because it was right next to picnic tables and a charcoal grill, great for an afternoon picnic and some tree swinging time. If you want a spot that has a good view of the lake activity, this would be a good spot to watch the boaters, fishers, and people enjoying the summer pedal boat rentals. *Note: Audubon State Park will be draining this lake for part of 2018 for construction!

2. Wilderness Lake Trail at Audubon State Park – a short hike and chill by the lake…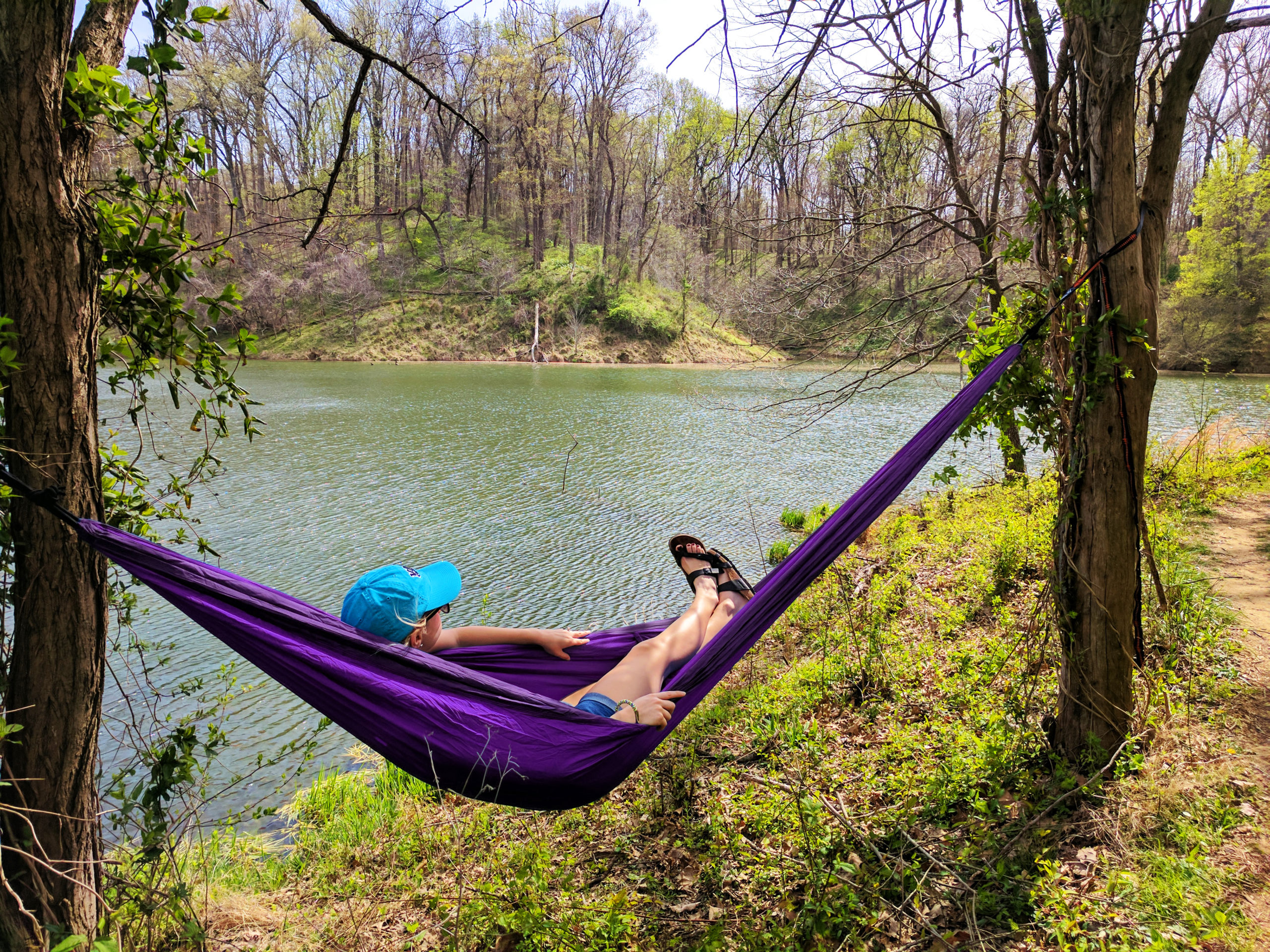 If you want to hammock at Audubon State Park, but want to find a spot that is a little less known, make your way towards Wilderness Lake Trail. This trail has another gorgeous lake view. If you take this trail at a leisurely pace, it is moderate at most. We looked for trees that were close to the water, with not a lot of brush around them, and found a good spot right before the second walking bridge. It took us about 25 minutes to get to this spot and get our hammock set up from the time we left the Information Center parking lot. This spot was on the trail so we waved at friendly hikers that passed by. It was just far enough to feel like we were off the beaten path, without actually straying too far. We retraced our steps back the way we came, instead of doing the full 1-mile trail.

3. Back Country Trail at Audubon State Park – almost off the grid with a high up view…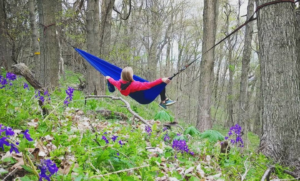 For those looking for a more reclusive spot to hammock, we recommend doing the Back Country Trail. If you keep continuing on Wilderness Lake Trail, you will see a sign that parts off directing you towards the Back Country Trail. It is a little less-travelled, and a little longer, but really nice if you are looking for an extended hike. There are plenty of trees to pick from on this hilly 1.6 mile trail. One of the best spots is the highest point that looks out towards the twin bridges. During spring, the forest tree leaves are not yet in their full greenery, so we were actually able to see Ellis Park and the wetlands from here! You'll know the spot when you see it. You might also notice a few nearby trees marked with yellow spray paint (see image). The path was surrounded by tons of beautiful purple wildflowers which made for a very scenic hike! It's a perfect place to nod off while listening to the songbirds and wildlife with a little-to-no chance of being bothered by anyone.


4. Central Park – minimal walking with lots to watch…

Looking for a different water view to hammock by? Central Park has an awesome view of the tall and elegant fountain that is a replica of the original iron fountain that stood in Central Park in the late 1800's. When the water is flowing, it's a sight to see and a refreshing spot to relax in the shade of the trees while listening to the water fall. There are plenty of great picnic spots here, as well as a bench swing, a gazebo, and an accessible playground area. You will find this is a favorite spot for families, dog walkers, and downtowners. Central Park is within walking distance of local shopping and dining spots, and other great parks, which leads us to our next great hammock spot.
5. Henderson Riverfront – a hammock hub spot…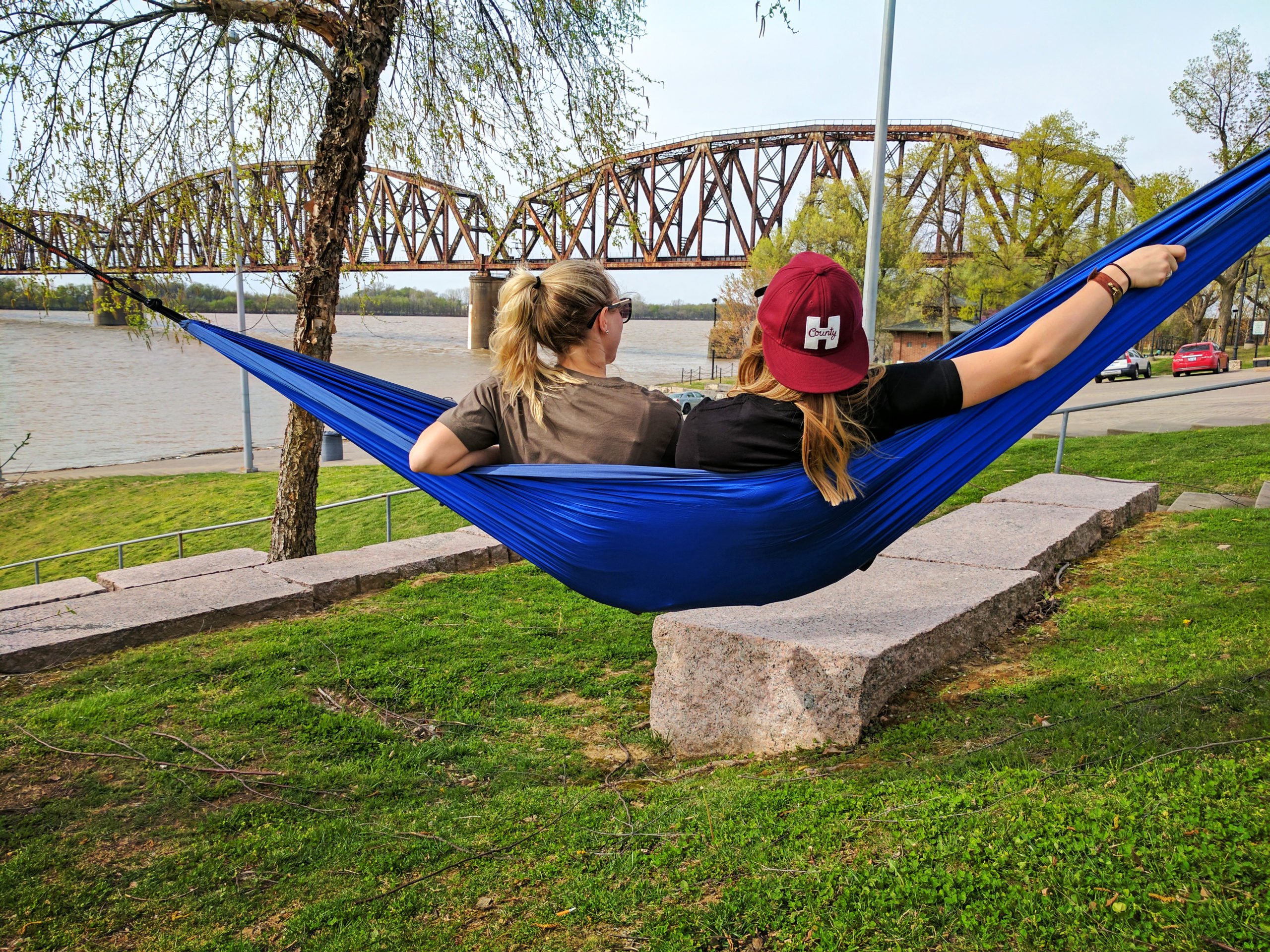 There are tons of trees on the riverfront and River Walk, but they are surprisingly really far apart! Unless you have some hammock strap extensions, we would recommend chilling on the Riverfront near the trees that are near the boat ramp by Sunset Park. What's great about this spot is you could hammock with multiple friends within a close proximity and have a great view of the riverfront fountains and all of the boat activity that takes place during the summer months. This spot won't be as secluded as ones we mentioned earlier, but you will get to see the train go across the railroad bridge, which operates about every 45 minutes. The granite rocks embedded into the side of the grassy hill add a nice touch and add seating for those of your friends that can't fit in your hammock! *Note: Check the weight limit before seating two or more people in your hammock.

6. Sandy Lee Watkins Park – away from the city and sleepin' all day…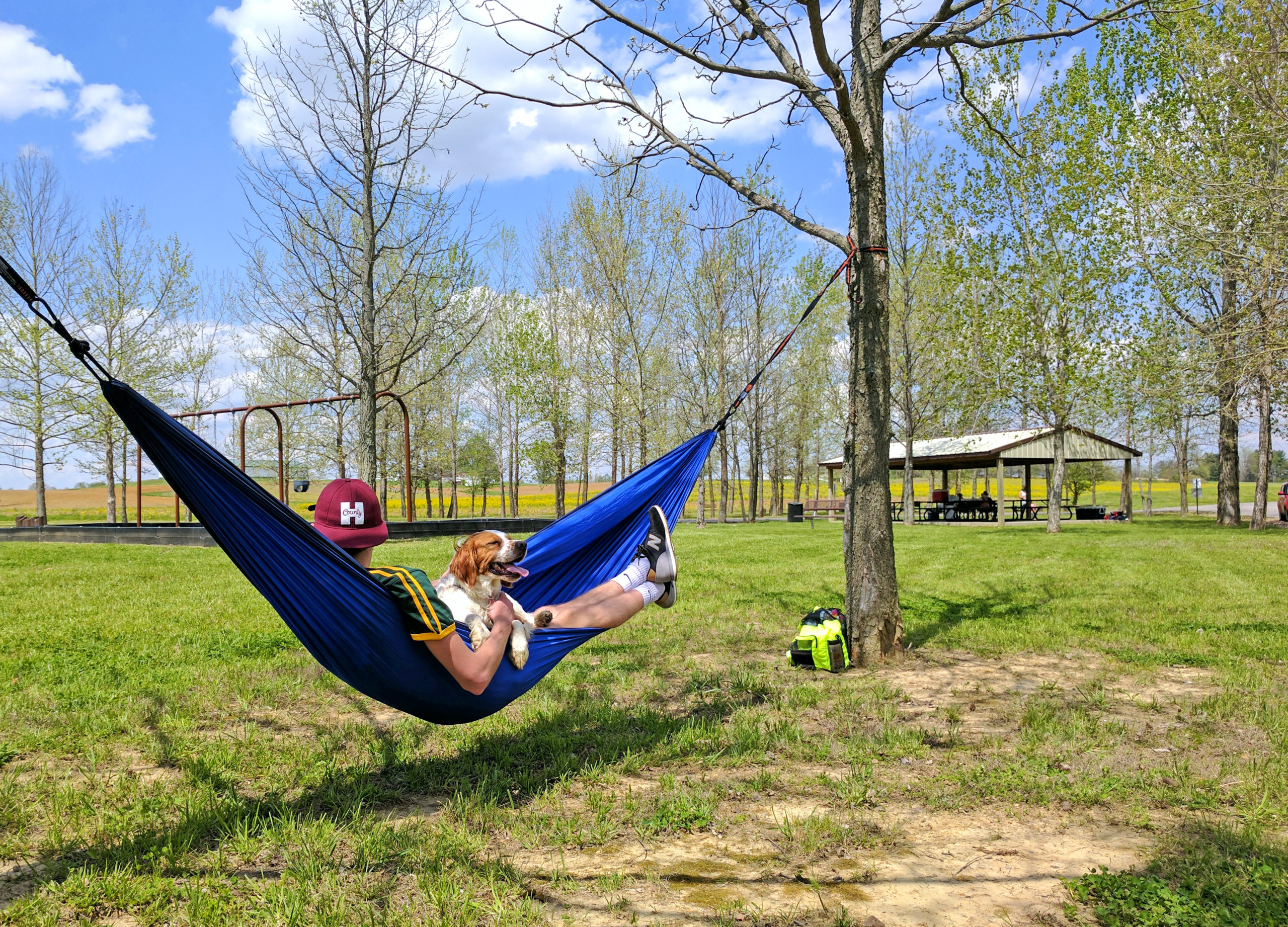 Feel like taking a country backroad drive? This park is in the outskirts of Henderson County and is known for its great fishing spots and walking trails. While Sandy Lee Watkins Park doesn't have a lot of mature trees yet, you can find this spot near the playground and park entrance. The further you drive through the park, you will notice many of the trees by the lakes are a little too young to bear the weight of hammock-ers. This is due to the park being fairly new. This park is hardly crowded and has lots of wide open spaces. So if you could go for some fishing and hammock-ing out in the county, check out Sandy Lee Watkins Park near Hebbardsville!

(Remember: Always use common sense when setting up a hammock. Don't venture into dangerous places and be mindful of private property when searching for a great spot to hang your hammock.)