You're out in the county now! For our Henderson County Country Stores series, we're highlighting these special destinations that are staples in the communities which they serve. Family-owned and locally run, we love the history, charm and small town feel from walking through the door of an old country store. Enjoy!
Cagey's General Store, located just over the Spottsville Bridge in Reed is a general store that serves, according to its patrons, "the best strombolis and pizza around." It originated in 1867 and has located in the same place since. The original building burned down in 1935, with the construction of the current building wrapping up in 1936. In the flood of 1937, "the water was as deep as the top of the windows" of the store– so deep that refugees in the area had to be removed by boat. The building is still in use today.



Owners Dusty and Spencer Billings have owned Cagey's for two years. They both grew up in the Reed area, but moved to Gilbertsville for a couple of years to be close to Kentucky Lake. "We loved it there, but I just kept saying 'It's time to come back home', so here we are now," Dusty explained. Before owning Cagey's, Dusty worked there for four and a half years. "We love our people," she says, "They love the atmosphere here, and we want to make them feel at home." Dusty enjoys looking for items that would have been in the original store to display. "It's interesting to have something from that long ago displayed for our customers."

Currently, the store sells groceries, drinks, and fishing bait and supplies. Fresh items include cold cut sandwiches, strombolis, pizzas, hamburgers, cheeseburgers and donuts on the weekends. Cagey's is also one of the few country stores that sells fuel. 



Cagey's is located at 20031 State Highway 811 in Reed, Ky. Its hours are 6 a.m. to 8 p.m. (7 p.m. in the winter), seven days a week. Check out their Facebook page for a full menu, and give them a visit!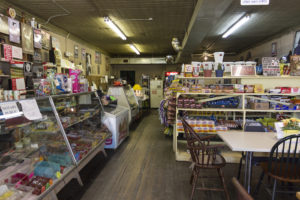 Like what you read? Our nature is to keep you informed how you want, when you want. Sign up to receive our e-newsletter every Monday with a new blog post featured every week.

SaveSaveSaveSave
SaveSave